Amidst the different dos and don'ts of sex and desire, have you ever paused and thought - what does 'pleasure' mean to me? 
I asked the same question to participants in our workshop लाज (Shame): Deconstructing Pleasure. The aim of the workshop was to create an intentional space for our participants to redefine their desires, pleasures and intimacy beyond societal pressures. 
I conducted a total of 4 workshops in both Pokhara and Kathmandu, Nepal from December 2021 to May 2022. The workshops consisted of 60 AFAB (Assigned Female at Birth) participants, who came together to reflect on their relationship with pleasure, specifically self-pleasure, and deconstruct the guilt, shame and stigma associated with it in our Nepali society. 
Here are some of my reflections from facilitating these pleasure workshops, as well as four activities that can help you create your own pleasure practice: 
Understand pleasure beyond penetration
In Nepal due to cultural taboos around sexuality, conversations around pleasure are often hushed and pushed to private spaces. The limited knowledge that does exist in public, defines pleasure as only accessible through penetrative sex (penis in vagina), which ideally should take place within a marriage. Since only 18.4% of people with vulvas orgasm through vaginal sex alone, this narrow understanding largely prioritises the sexual pleasure of cis-het men, creating a pleasure gap. Additionally, it erases queer expressions and practices of pleasure since it equates pleasure to only exist within heterosexual (opposite-sex) relationships. 
In order to decentralise this single narrative of pleasure, we started our workshop with The Pleasure Project's prompt,  "I get pleasure from…". The prompt facilitated participants to take a step back and think about the activities they received pleasure from. 
The answers we received included both sexual and non-sexual activities, ranging from masturbation, to eating, to reading books. This activity allowed us to establish that the only universality to pleasure is that it is subjective to each one of us and our unique needs. It also helped us expand the narrow understanding of pleasure and emphasise the importance of non-sexual activities in our pleasure script. While pleasure innately is not sexual, given the taboo, the workshop then proceeded to encourage participants to think about their experiences specifically related to sexual pleasure. 

This group discussion helped to not only normalise discourses on sexual desires, but also to understand the societal shame that we may have internalised when it comes to pursuing our pleasure.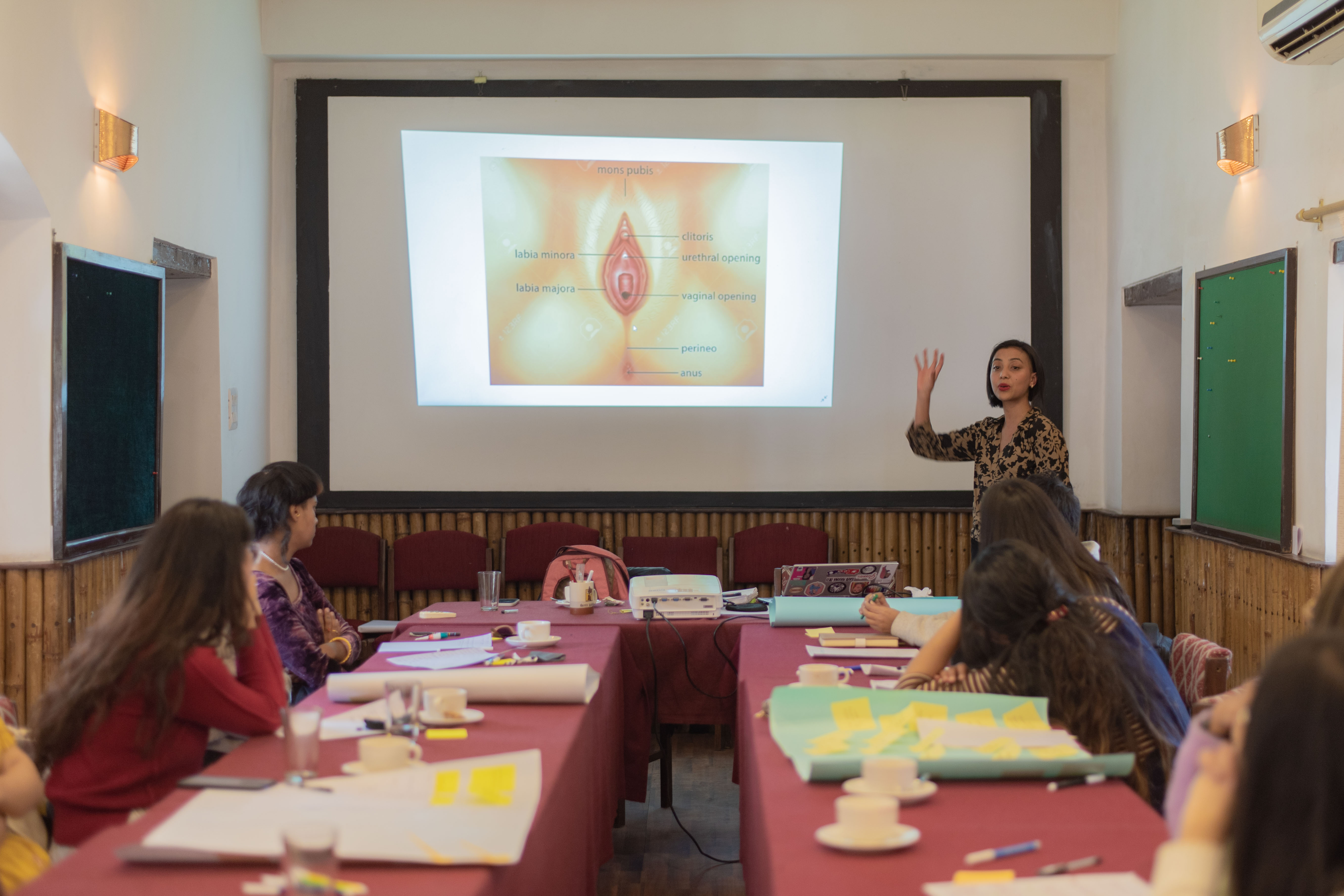 Anugya conducted 4 workshops in Pokhara and Kathmandu
test
Assess individual experiences of pleasure
In the second activity, Pleasure Walk, we asked yes/no questions to our participants to allow them to communally assess the differences and similarities between their experiences around sexual pleasure and their bodies. We included the following questions:
Do you know what vulva means?

Have you ever looked at your vulva/ vagina before?

Have you ever felt guilty or ashamed for having/ or not having sexual desires?  

Have you ever touched yourself? 

Have you ever felt guilty or ashamed for pleasuring yourself? 
While some participants shared that they felt empowered every time they masturbated, some expressed feeling guilty right after it. A few added that they started masturbating when they were young without knowing what it was and afterwards felt ashamed. This group discussion helped to not only normalise discourses on sexual desires, but also to understand the societal shame that we may have internalised when it comes to pursuing our pleasure. 
Practise verbalising sexual desires 
Our next activity centred on pleasure communication. Since conversations of sexual pleasure are not commonly practised, even among people in relationships, this activity aimed to help participants verbalise their sexual desires, practise active listening and seeking consent. Each participant took 10 mins to independently think about the things they enjoyed in solo or partnered sex and then shared their answers with their pair. Later, after asking for consent, interested participants shared what their partner liked with the rest of the group, facilitating a conversation around sexual desires and fantasies.  
Responses to the prompt 'I get pleasure from...'
test
Learn techniques of pleasure 
In contrast to our previous activity, where the room was filled with excited buzzes, our final section on techniques of vulva pleasure was often met with heavy silences. The initial response is indicative of the stigma, discomfort and the systemic erasure of knowledge that surrounds conversations on vulvas/vaginas. However, after sharing a few personal techniques, participants felt comfortable enough to share their creative methods of pleasuring themselves by either humping on a pillow, using a jet spray, a vibrator, audio erotica, their fingers, imaginations, etc. 
Each section of the workshop was designed as an attempt to reclaim conversations around sexual pleasure beyond the shame, guilt and cis-heteronormative, male-centric lens attached to it. Pleasure is a natural and liberated part of our life and we all need and deserve it. It is our fundamental human right to access and practice pleasure without our safety being threatened.  In a society that shames, hypersexualises and is violent towards women and gender non-conforming bodies, coming together to reflect on our relationship with our pleasure becomes an act of resistance. A resistance against the patriarchal system that erases the knowledge of our own bodies, desires and pleasure. 
Join us in this resistance today by taking the first step and asking - What does pleasure mean to me?